Be a Scuba Diver

See These Magnificent Creatures in the Wild
Do you want the experience of a lifetime? Then you should definitely add scuba diver to your list of things to do.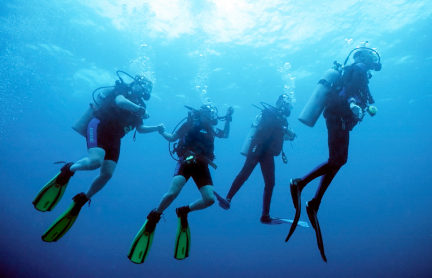 Before you can safely get into the water with breathing apparatus, you need to be certified as a scuba diver.

Now, there are several agencies you can learn with and we've listed some of the better known ones in the right hand column of this page.

Annemarie and I are both certified with PADI, so we're not able to give you any in depth details about any of the other agencies. We have deliberately steered clear of making any recommendations as you get good and bad instructors in any organisation.

Your best bet is to go along to a local dive school and have a chat with the people who work there. If the school is the right fit for you you'll probably get a good vibe. If in doubt, try somewhere else. It's your safety and your enjoyment of diving at stake so it needs to be right for you.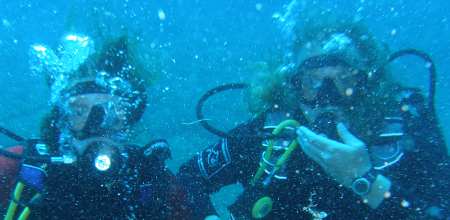 Intrepid scuba diver alert... or not!

Our Scuba Diver Training Story
Now, neither Annemarie nor I are big fans of cold water but we did our Open Water and our Advanced Open Water training in Devon, UK.

Our instructor was great and the training was excellent, but the water was cold and the visibility was dire.

We started out in the classroom with a thorough briefing about the course and about safety. We also saw some videos of the marine life we were likely to see in the area. I had already decided that I wanted to get up close and personal with a basking shark, but unfortunately we didn't see any in the area.

After we'd both passed our theory exam it was time to hit the pool. I was really excited at this point. I'd spent many hours underwater holding my breath, not all in one go, of course;), but this was going to be the first time I could actually breathe under water.

We got kitted up, performed our buddy checks, jumped into the pool and down we went. Well, sort of. It was at that point that I discovered that I have ridiculously buoyant feet. Yes, feet!

Now, if I'd had difficulty getting my fat behind to sink it would have made sense, but my bony feet? Intrepid scuba diver? Not likely. There I was literally hanging upside down in a public swimming pool with nothing but a pair of fins pointing skywards above the water. I couldn't even blame it on air in a dry suit as I was only wearing my swimming cozzie and a t-shirt.

Annemarie managed to sink without a hitch, but soon discovered she had lungs the size of a small country. Even Mike, our instructor, said he'd never met anyone who got through almost a full tank of air in their first pool session.

So, pool work over and time for the debrief. How was it? Well, I'll say this... wearing a mask in a public swimming pool is not something I want to make a habit of. Some things are better left unseen!

Oddly, there was no big wow moment when I found myself breathing underwater for the first time. I'm not sure if it was the indignity of hanging from the surface by my feet, or if it was because it just felt so normal and natural.

Next it was time for the real thing and I made another unpleasant discovery about myself once we got into open water.

Our first dive was a shore entry. Armed with about a tonne in ankle weights to compensate for the 7mm semi-dry suit and the salt water, I managed to get below the surface and stay there.

This is where I found out that I can't cope with anything tight around my neck. As we descended the neck of my suit became tighter and tighter and I had to fight the urge to gag.

Eventually I had to make a choice. I could abort the dive, I could hurl into my regulator, or I could brave the influx of icy water and unzip the neck of my suit.

Well, despite the rubbish viz and the near-Arctic temperatures (okay, it was 14ºC but who's to a degree or two?), I was far too fascinated to go back up so down came the zip and in came the water. Not very pleasant when it filled the hood and hit the ears, but I soon got over it.

Did I feel like a scuba diver yet? Not remotely. But we did see our first shark on that dive. It was a beautiful small spotted catshark and I was immediately smitten.

I knew then, overly buoyant feet and an air pig for a buddy aside, that this was where I wanted to be. I won't say that the rest of the course was uneventful, but I'll save those stories for another time. After all, I'm supposed to be encouraging you to go diving, not putting you off.

Seriously though, it really is amazing down there. Become a scuba diver - I highly recommend you give it a try.
Have you been diving with sharks? Share your story with us.

---
Return to Diving with Sharks from Scuba Diver
---