Great White Sharks
A Book Review
If you want a superb read about great white sharks then this is the book for you. There's so much fascinating information and some of the most stunning photographs I've seen of these animals.
White Sharks – Magnificent, Mysterious & Misunderstood by Dirk Schmidt is one of those books that you just can't put down.
It's a must have for anyone interested in the marine environment in general and the GWS in particular.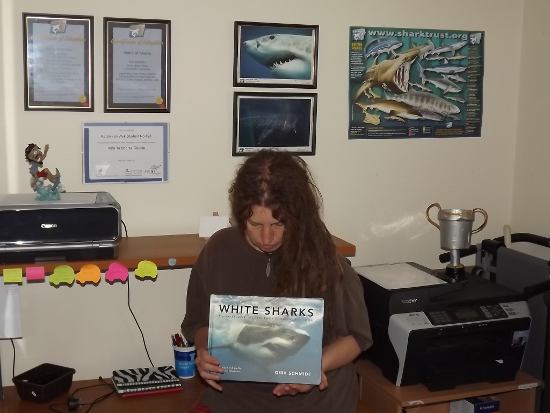 Though the book is about the white shark there is much to be learned about the balance of our fragile oceans.

I can't say enough about the imagery in this book. It sits on my bedside table and I just can't help paging through it morning and night. There are some amazing photos of the sharks breaching as well as some stunning underwater shots.

They truly are magnificent animals.

Now, I love sharks and I always have, but I highly recommend this book to anyone who fears them too. This book gives a good understanding of shark behaviour and I'm pretty sure that anyone who reads it will put it down with a greater understanding of these amazing creatures.

Only through understanding can we find relief from our fears. And in gaining an understanding we realise just how amazing these creatures are. We also learn just how much they need our help.

Sharks are one of the most threatened animals on our planet and without them the balance of the marine ecosystem would be destroyed.

This beautiful book is divided into eight main parts:

Part 1 – Biology
Part 2 – Behaviour
Part 3 – Shark attacks and shark bites
Part 4 – Attacks on white sharks
Part 5 – Breaching white sharks
Part 6 - Shark tourism and cage diving
Part 7 - Primary white shark locations in southern Africa
Part 8 – Shark conservation

The book is currently available on Amazon UK and Amazon US.
---
Return to World of Sharks from Great White Sharks

---