About us and World of Sharks

Want to know more about us and why we started the World of Sharks website? This is the place to be.
What we're not
We're not marine biologists, shark specialists or 'sciency' in any way.

So, what are we then?

Annemarie is an artist/photographer and Karen is a writer/artist so we tend to approach our subjects more from an aesthetic point of view.

You will find some facts and figures on the site as we're both learning more about sharks every day, but the main focus of World of Sharks is to show you the beauty and majesty of these amazing animals.
About Us
Annemarie

Annemarie grew up on a farm in Vryheid, South Africa.

Her love of nature started when she was very young and her passion for the ocean was nurtured by several trips to Durban as a child.

She learned to scuba dive in 2002 and hasn't looked back since.

Annemarie loves travelling and likes to spend as much time in, on or under the water as possible.

Her favourite shark is the gentle giant of the seas, the whale shark.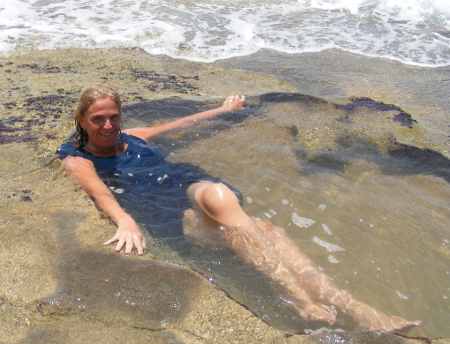 Down time in Mozambique

---
Karen

Karen is a total contradiction. She loves water so much she would dive in a puddle, yet 'things that shouldn't be underwater' freak her out.

She's quite happy to come face to face with a shark, but a submerged boat will have her clinging to her dive buddy for dear life.

Raised in Zambia and South Africa, she fell in love with water the first time she got into a pool.

Much happier underwater than on top, she prefers freediving to scuba as she loves the silence and the closeness to the marine environment you get while breath-hold diving.

Karen also enjoys surfing though she's the first to admit that she's not very good at it.

Her favourite shark is the shortfin mako.


Karen braving the North Sea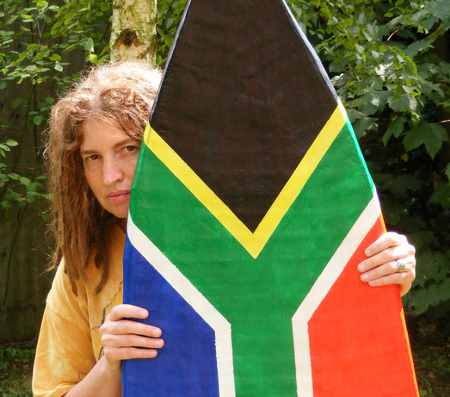 Surf anyone?

---
Radley

Radley is a retired racing greyhound whom Karen inherited. Er, who inherits a greyhound? Karen tells the story:

I was with my friend Gary at the rescue kennels when he chose Radley. Well, I say he chose Radley but, if the truth be told, Radley chose him. (He peed on his wheelchair and tried to leap into his lap.)

Anyway, Gary fell in love with him immediately and he signed the paperwork and promised him a forever home.

Sadly, within a year Gary became too ill to remain in his own home and I promised to take care of Radley for as long as he needed me too.

When Gary passed away I was the one promising Radley a forever home. I had to move out of my flat and pull a lot of strings with a lot of people to be able to keep him, but I can honestly say it was totally worth it.


Radley with 'auntie' Annemarie
He's the hairy black chap on the right.

I love this boy and I'd live under a bridge with him if I had to, and so would Annemarie. He has his paws well and truly under the WoS HQ table and that's the way it's going to stay. Oh, and did I say he likes sharks too?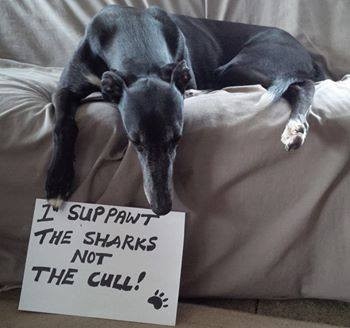 Update October 2014
Sadly our beautiful Radley crossed the rainbow bridge on 8th September 2014. He was only eight years old but had an aggressive form of bone cancer and had to be put to sleep.
We were totally devastated but while walking kennel dogs on a Lincolnshire Greyhound Trust walk we met Yogi. We both felt it was too soon to offer another greyhound a home, but Yogi had been in the kennels for a year. He was such a shy boy, and so reluctant to put himself forward, that they were having difficulty finding him a home.
He also needed a quiet home with no children, no cats and no other dogs. Everyone said we were perfect for him - and how could you resist this face?
Yogi

Yogi

This is our latest WoS recruit, Yogi. Like Radley, Yogi is also a retired racing greyhound.

He's a lovely boy, a bit shy when meeting new people but is coming out of his shell more every day.

He loves the beach but is a reluctant paddler, so just like Radley then. Must be a greyhound thing.

Oh well, he's still young. He'll be five in December, so maybe we can still teach him a new trick or two.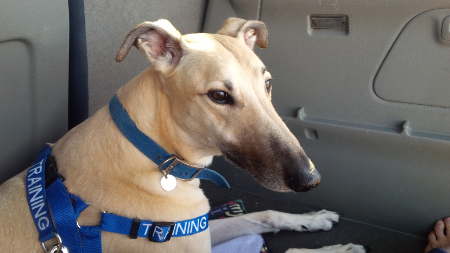 Yogi on an adventure in the car
Why World of Sharks?
Because we love them and we hope to share our passion with you.
Right now sharks need our support more than ever before. They've been in our oceans for 400 million years and have evolved perfectly for the environment they inhabit.  Now. thanks to persecution, poaching, over-fishing, and environmental pressures some of them may only have another 20 years on the planet.
Imagine! 400 million years on the planet and we wipe them out in the blink of an eye. Do you really want to be part of the generation responsible for that?

'The more clearly we can focus our attention on the wonders and realities of the universe about us, the less taste we shall have for destruction.'
Marine Biologist Rachel Carson