Blacktip Shark
Carcharhinus limbatus
The blacktip shark, or carcharhinus limbatus belongs to the order Carcharhinidae. This shark is a fast and active swimmer and they're often found in schools near the surface.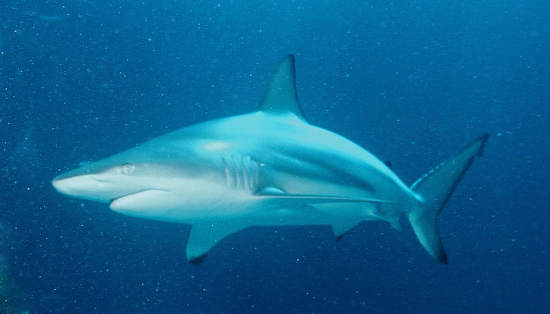 They're known to breach and sometimes leap out of the water and spin in the air a bit like the spinner shark. It's thought this may be the end result of them diving through a school of small fish whilst feeding.

There is also a school of thought that suggests they do it to try and dislodge parasites. Maybe they just do it because they can. If only they could talk.

These are timid sharks but may become aggressive in the presence of food.







Size and shape

Pups range from between 38 and 72cm at birth. Mature males grow to lengths between 135 - 180cm, and females from 120 - 190cm. The maximum being 255cm. They have a large stout body with a longish pointy snout.

They have small eyes and a nictitating membrane is present. Their gill slits are longer than those of other members of the carcharhinidae family.

Colouring

Grey to greyish brown on top with a pale to white underside and a noticeable white band going up the side.

They have black on the tips of the pectoral fins, the second dorsal fin and the lower lobe of the caudal fin, and sometimes on the pelvic fins. The top of the first dorsal and upper lobe of the caudal fin usually have black edges. The anal fin is usually plain but may have a black tip. Some adults do not have the black tips.

Fins

They have two dorsal fins with no interdorsal ridge. The first dorsal is fairly high and slightly swept back. It is situated slightly behind the paired pectoral fins.

The second dorsal fin is much smaller and sits almost directly above the anal fin. The pelvic fins are small and are situated just ahead of the anal fin. The caudal fin is asymmetric with a much longer upper lobe than lower.

Teeth

These are small and sharp, and have cusps and serrated edges. The teeth in the upper jaw are slightly wider than those in the lower jaw.

Diet

These sharks eat mainly bony fishes with the odd ray, skate or smaller shark thrown in for good measure. They also occasionally feed on crustaceans and cephalopods.

Reproduction

Blacktip sharks are viviparous with a yolk sac placenta. Females are seasonally migratory when pregnant. Litter sizes vary from 1 to 10 pups tough 4 to 7 is more common.

The gestation period is 10 to 12 months and they breed in alternate years. Females often return to the inshore nursery grounds, where they were born, to give birth.

Distribution

They are found widely in tropical and subtropical areas. Usually close inshore and often off river mouths, shallow bays and estuaries. They do tolerate low salinity but not fresh water.

Blacktip Shark Distribution Map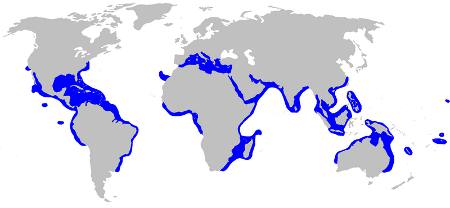 ---
Return to Requiem Sharks from Blacktip Shark
---